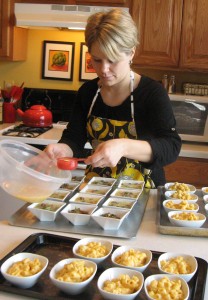 Those who know me know that I'm a serious cook and a serious eater. I love food and everything about it: the farmer's market, pretty linens, cookbooks, dutch ovens, china, my gourmet grocery store, aprons, my dining room, and people, always the people. Food is a language of comfort, of companionship, of caring, of fun. Food is my language of love.
Our first day of school celebratory dinner: shrimp, of course. It's Owen's favorite. The big bowl of raspberries on the table. ("I got those for you," I say as Scott's eyes light up. "I know," he replies.) A gorgeous bridal shower buffet. Baked mac and cheese that treats sadness and celebrates new babies. A birthday cake that looks like a back hoe.
I do love a cooking challenge and I'm determined that life as a fat-free foodie not be an oxymoron. Sure, the velvety bechamel I've perfected and the baked brie for which I am famous are a thing of the past, and probably that delectable beef ragu that once rendered me speechless is too. But really, it won't be so bad eating (saturated) fat free.
Here's the good news: I should eat all the vegetables, fruit, and nuts I want. Grains too (after years of dieting, I'm giddy that I'm actually supposed to eat them, especially oats, barley, and flax). I should eat more soy protein and seafood because I need those omega-3s even more now.
How about avocados? Yep. Mayo? Yep. Sushi? Uh huh. Oh, and I almost forgot, red wine.
Yummy. See how I suffer?
And here's what not to eat: Any animal that lives on land. Foods made from animal products. Anything artificial. Added salt.
Duh.
Okay, it's not quite that simple and the rules are not that draconian, but if I wanted to eat the most heart-healthy diet possible it would have to be vegan. I'm starting out with lots of vegetables, grains, seafood, and some turkey and chicken once in a while. I'm eating very little dairy other than skim milk and fat free yogurt, and that is a true cooking challenge. I've also had to give up Diet Coke, which is honestly harder to live without than butter.
I've just begun my fat free foodie education and my plan is to share Jen- and family-approved recipes on this blog, along with my experience integrating my heart-healthy diet into a busy family life (as well as onto my party table). I'm really more interested in talking about food than myself anyway.
So I'll start today with some good info for your nutritional inspiration, and one good recipe from this weekend.
ROASTED TOMATO SPAGHETTI
Serves 4 hearty eaters, with a bit left for you for lunch the next day
Adapted from Real Simple magazine
3 tablespoons olive oil
1 cup chopped red onion
1 tsp crushed garlic (from a jar)
1/3 cup pitted kalamata olives (about 12)
1 teaspoon anchovy paste
1/2 teaspoon crushed red pepper
1 teaspoon dried oregano
28-ounce can Italian plum tomatoes with juice
kosher salt and black pepper
1 pound spaghetti
2 tablespoons chopped parsley
Heat oven to 450° F. 2. In a large ovenproof skillet or baking pan over low heat, combine the oil, onion, garlic, olives, anchovy paste, crushed red pepper, and oregano.
Bring to a simmer and cook, stirring, for two minutes. Remove from heat, pour the tomatoes over the top, and season with ½ teaspoon salt and ¼ teaspoon pepper.
Transfer to oven and roast for 20 minutes until the sauce is hot and bubbly and the onions are soft. Meanwhile, cook the spaghetti according to the package directions.
Transfer the roasted tomato mixture to a food processor or blender and pulse once or twice to your desired consistency.Toss with the spaghetti and parsley.
Variation I'm going to try
: This robust sauce, similar to puttanesca, would stand up well to tuna. I'm going to add some next time to get in another fish serving and up the omega-3s even more.
Nutritional Information
Calories   639 ;   Calories From Fat   141 ;   Fat   16g ;   Sat Fat   2g ;   Cholesterol   0mg ;   Sodium   853mg ;   Protein   19g ;   Carbohydrate   105g ;   Sugar   15g ;   Fiber   8g ;   Iron   5mg ;   Calcium   114mg