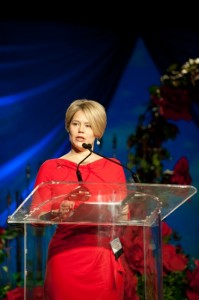 I am an advocate and speaker for women's heart disease awareness and women's heart health. I was the American Heart Association's Go Red for Women spokeswoman for 2013 and am currently a Go Red for Women Ambassador.
2012
2013
Speaker at Go Red for Women Luncheon on January 22, 2013. Read remarks here.
Merchant and Gould, February 1
Presbyterian Homes, February 5
Gloria Dei Lutheran Church, February 10
US Bank, February 19
Trissential, February 21
Dunwoody Institute, February 27
Hot Mama, February 28
Allianz, March 15
Gloria Dei Lutheran Church Wellness Conference Keynote and Breakout Sessions, September. Read remarks here.
2014
Girl Scouts River Valleys, February 7 and 14
CorePower Yoga Go Red Day, February 8
Go Red for Women Executive Leadership Team Kickoff, February 25
I would be thrilled to speak to your group or organization about women's heart health. You can contact me at jen [at] mylifeinred [dot] net.