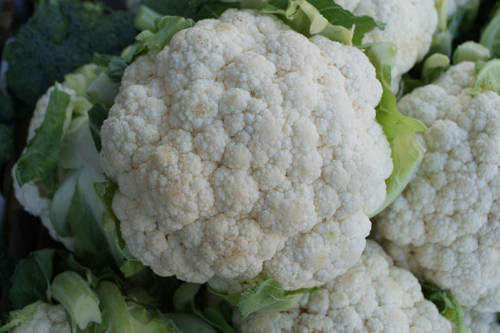 I bought a big, beautiful cauliflower at the farmer's market on Saturday. I love roasted cauliflower so much that when I saw this recipe on Closet Cooking, I wanted to try making it heart healthy right away.
I made this for lunch today – for just me. Easy and delicious!
Roasted Cauliflower and Mushroom Soup
1 small cauliflower, cut into florets
2 tablespoons oil
salt and pepper to taste
1 tablespoon oil
2 leeks, thinly sliced
3 cloves garlic, chopped
1 pound of mushrooms (I used shiitakes, because they are the most heart-protective, but you can use any kind)
1 teaspoon thyme, chopped
3/4 cup dry white wine
4 cups chicken stock
salt and pepper to taste
1 cup skim milk (optional; I actually left it out. The original recipe is cream.)
Preheat oven to 400 degrees. Toss the cauliflower florets in the oil along with the salt and pepper and arrange them in a single layer on a large baking sheet. Roast the cauliflower until lightly golden brown, about 20-30 minutes.
Meanwhile, heat the oil in a large sauce pan over medium heat. Add the leeks and and saute until tender, about 5 minutes. Add the garlic and saute until fragrant, about a minute. Add the mushrooms and the thyme and saute until the mushrooms are tender, about 10-15 minutes.
Add the wine to deglaze the pan. Be sure to scrape up and mix in all those browned bits. (Layering flavor is key to good low-fat food!)
Add the broth and cauliflower and bring to a boil. Reduce the heat and simmer, covered, for 30 minutes. Remove from heat and blend it with your immersion blender until it is a consistency you like. I left mine pretty chunky, but if you want a "cream of" soup, really blend until that cauliflower is smooth and creamy. Season to taste with salt and pepper.
Add the milk, if using, and return to heat until just heated through.
My advice: Drizzle your bowl with a little white truffle oil and you'll never miss the dairy! This makes about eight bowls. But I couldn't stop at just one, so I would guess it serves 4-6.