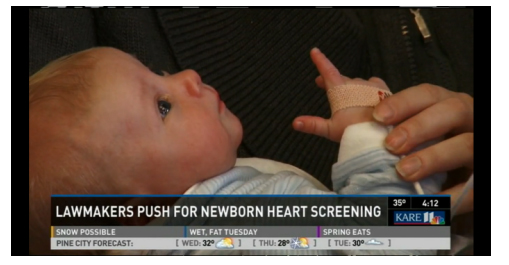 There are many forms of heart disease, and some affect even the tiniest of hearts.
Congenital birth defects are responsible for the most infant deaths due to birth defects. In this country, about 18 out of 1,000 babies born every year have critical congenital heart defects that require surgery or catheter interventions.
The trouble is, some babies born with a heart defect appear healthy at first and are sent home before the defect is detected. It is estimated that this happens to about 300 babies per year in the United States.
The good news is there's an easy, fast, and non-invasive test that costs mere pennies and could identify such defects before any symptoms appear. It's called pulse oximetry, or pulse ox. A small sensor is placed on a baby's hand or foot. It measures the amount of oxygen in baby's blood and provides a clue to how well the heart is working. If a defect is found, the child can receive the care necessary to prevent death or disability.
Owen wore a pulse ox scanner 24-7 while he was in the hospital. I know from this experience (and wearing one myself) that it is truly simple and painless. And while some hospitals include pulse ox tests as part of their newborn care protocols, not all do.
The American Heart Association advocacy platform calls for the inclusion of pulse oximetry screening for critical congenital heart defects in the Uniform Screening Panel in all states. This would require that  all newborns, prior to being discharged from the hospital, be screened for CCHD.
Minnesota State Representaive Nick Zerwas, R-Elk River, along with Representative Patti Fritz, D-Faribault, have introduced a bill that would add the test to the panel of mandatory newborn screenings here. Representative Zerwas is also a survivor, diagnosed at three days old with a three-chambered heart. He has had multiple surgeries to correct it.
Watch Rep. Zerwas on Kare 11 News and hear his story, then keep an eye on this bill and call your legislators to urge approval.
Find out more about the national effort to include pulse oximetry testing in all states.