This week's EmpowerMEnt Challenge is a little bit harder that last week's for the heart-loving foodie  — find ways to reduce the salt.
The bad news: there is WAAAY too much salt in the American diet.  According to the Mayo Clinic, the Dietary Guidelines for Americans recommend limiting sodium to less than 2,300 mg a day — or 1,500 mg if you're age 51 or older, or if you are black, or if you have high blood pressure, diabetes, or chronic kidney disease. A teaspoon of table salt contains 2,325 mg of sodium.
A study by the U.S. Centers for Disease Control and Prevention found that on average, kids ages 6-18 eat 3,300 mg a sodium a day, and that's before they reach for the shaker at dinnertime.
The good news is you can reduce your consumption dramatically by doing these two easy things:
Cook at home.
Use whole food ingredients (instead of processed).
The reason is that the majority of the sodium we consume comes from processed food and restaurant meals  — put there because salt makes things taste good and last longer. If you swap for homemade, you've won half the battle.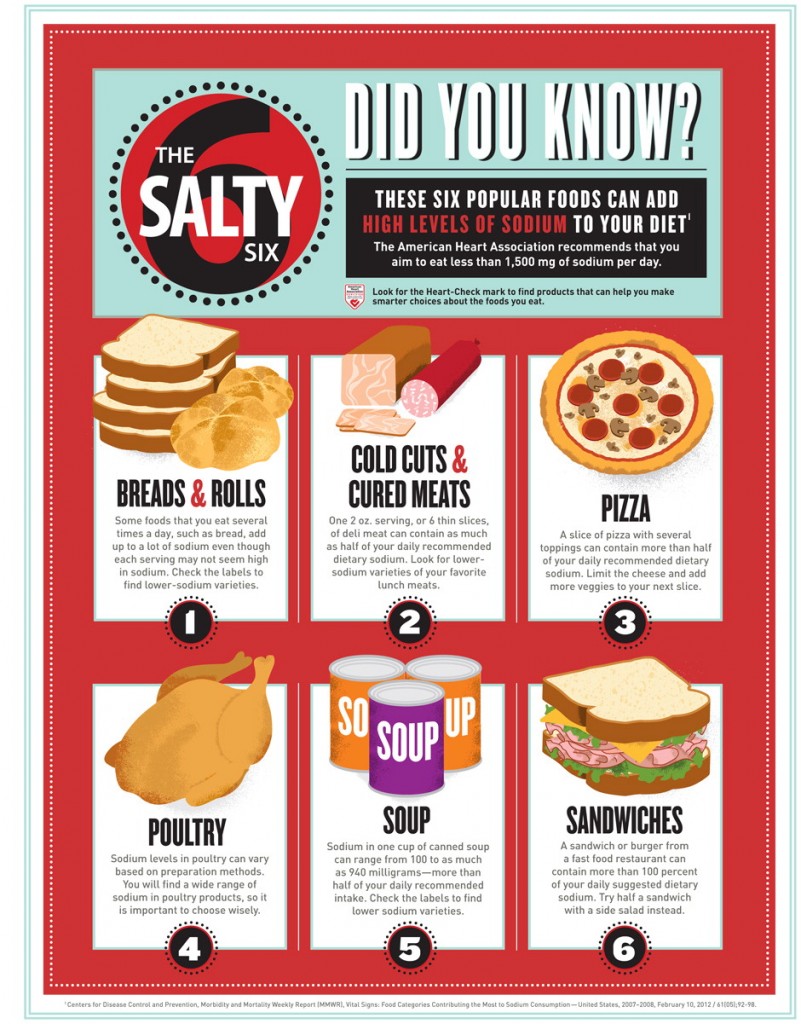 These purchased/processed foods are known as the "salty six" — culprits of high levels of added sodium. You really should skip the cured meats and cold cuts for lots of reasons (they are especially bad for those with heart disease), and you can make bread, soup, sandwiches, and pizza at home (or get your bread at a bakery). Check the labels closely on poultry; if it says "injected" or "seasonings," take a pass.
Here are two simple recipes for switching from processed to homemade that my family loves — Ranch dressing and taco seasoning mix. Once you've tried these, you won't go back to the store-bought (and sodium-laden) versions. They taste so much better!
Homemade Ranch Dressing Mix
Makes about 3½ cups of dry mix, almost a whole quart jar and this will last you forever, as you only need 2 tablespoons to make a huge batch of dressing.
¼ cup black pepper
1½ cup parsley flakes
½ cup garlic salt
2 tbsp kosher salt
¼ cup granulated garlic
¾ cup granulated onion
2 tbsp dill weed
Combine all ingredients and store in an airtight container. To make dressing, whisk together 2 tbsp of mix with 2 cups each of mayonnaise and buttermilk, 1½ cups sour cream, & 1 tsp lemon juice. Refrigerate for 2 hours. Makes 1¾ quarts dressing. (You can make this lower-fat by swapping Greek yogurt for some or all of the mayo and/or sour cream.)
Homemade Taco Seasoning Mix
Makes 2 tablespoons, enough for 1 lb. beef, turkey, or chicken.
2 tsp. minced dried onions or onion flakes
1 tsp. chili powder
1 tsp. salt
1/2 tsp. crushed red pepper
1/4 tsp. dried oregano
1/2 tsp. garlic powder
1/2 tsp. cumin
1/2 tsp. cornstarch
To make tacos, brown one pound of ground beef or ground turkey (or saute sliced chicken breast or beef for fajita-style tacos). Add spice mix and 1/2 cup of water. Reduce heat and simmer for 10 minutes. This also works for black bean tacos, or mix some of it with Greek yogurt for a spicy dip or sauce.