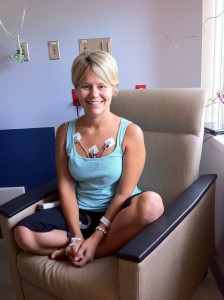 I'm a mom of two, a distance runner, a marketing manager, and a heart attack survivor. This blog is about my life with heart disease.
Heart disease is the number one killer of women in America; more women die from it than all forms of cancer combined. Too few women know their risk, and even fewer act to protect themselves. I write this blog because I lived, and too many women don't.
I was 37 when I had a heart attack; at 38 I narrowly escaped another one. Healthy, strong, and in training for my second marathon, this was the last thing I dreamed would ever happen. But if it can happen to me, it can happen to anyone. Women need to know the risks, symptoms, and signs of heart disease. Women need to make their health a priority.
This blog began as a place for me to collect what I was learning about my disease, share news with my family, and work through the anxiety and change that comes with survival. A year later it — and me — are still going strong. I hope you find it useful, inspiring, and once in a while, maybe a little funny. I hope it helps you as it has helped me.
Thanks for reading –
Jen
Contact me at jen(at)mylifeinred.net