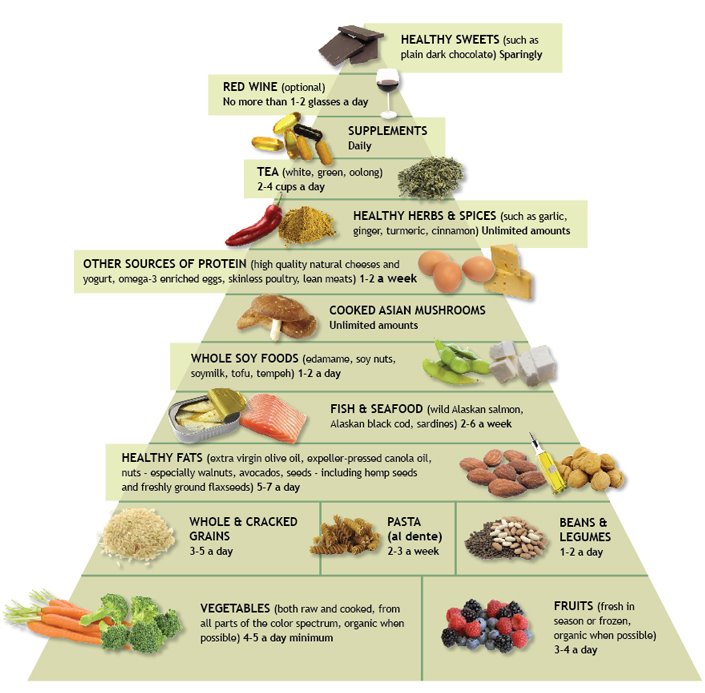 I love this infographic shared by the Yale Heart Study this week. It makes parsing the heart-healthy diet rules much easier. Avoiding saturated fat is the easy part; remembering all the other rules is harder. (Though I'm pleased to report I'm doing very well in the red wine 1-2 glasses per day category.)
The whole section devoted to "cooked Asian mushrooms" was a new one for me, so I did some research. I always thought mushrooms were a tasty but nutritionally benign food; I didn't know they had health benefits like broccoli, kale, almonds, and salmon. What a fortuitous discovery for my heart-friendly cooking adventure!
So here's why mushrooms are awesome, aside from their obvious gastronomic virtues.
Shiitake mushrooms, in particular, are an excellent source of three B vitamins (vitamins B2, B5 and B6), as well as a good source of B2, several minerals, and fiber, protein, and vitamin D. Shiitakes are also high in three key antioxidant minerals: manganese, selenium, and zinc.
Studies have shown shiitake mushrooms support the immune system, help ward off cancer, and of particular interest to me, provide cardiovascular support, including cholesterol reduction and protection against atherosclerosis (that's plaque buildup in your arteries) through some very complex chemical processes I won't try to explain (for the full scoop, see "World's Healthiest Foods: Mushrooms, shiitake).
And even the humble little white button mushroom (a relative of the haute-ier portobellos and creminis) gets some nutritional props in a CNN article "5 Foods that Should Have a Place in Your Diet."
They may be 90 percent water and have only 18 calories per cup, but mushrooms are getting serious scientific attention. Laboratory reports and animal studies show that compounds in mushrooms may do everything from bolster immune function to suppress breast and prostate cancers to decrease tumor size. And now, Penn State researchers find that mushrooms . . . harbor large amounts of an antioxidant called L-ergothioneine. The scientific buzz is that fungi, for the moment, are the only foods that contain this compound.
While scientists work to figure out how these findings will translate to dietary advice, there are plenty of reasons to enjoy mushrooms. Clare Hasler, Ph.D., a well-known expert in functional foods and executive director of the Robert Mondavi Institute for Wine and Food Science at the University of California, Davis, points out that mushrooms offer a healthy helping of the blood pressure-lowering mineral potassium. "Most people might be surprised to learn that while orange juice is touted as one of the highest potassium foods, one medium portobello mushroom actually has more potassium," she says. "And five white button mushrooms have more potassium than an orange."
I loved mushrooms before, but I heart them even more now (I warned you, I love a good heart disease pun). Try them in one of these great recipes, and enjoy your fabulous fungi!
RECIPE: ASIAN NOODLE SOUP WITH SHIITAKES
RECIPE: YOGURT-MARINATED CHICKEN WITH ROASTED MUSHROOMS AND SWEET POTATOES
RECIPE: BARLEY, MUSHROOM, AND KALE SOUP
RECIPE: MUSHROOM AND RED WINE SAUCE (FOR PASTA)