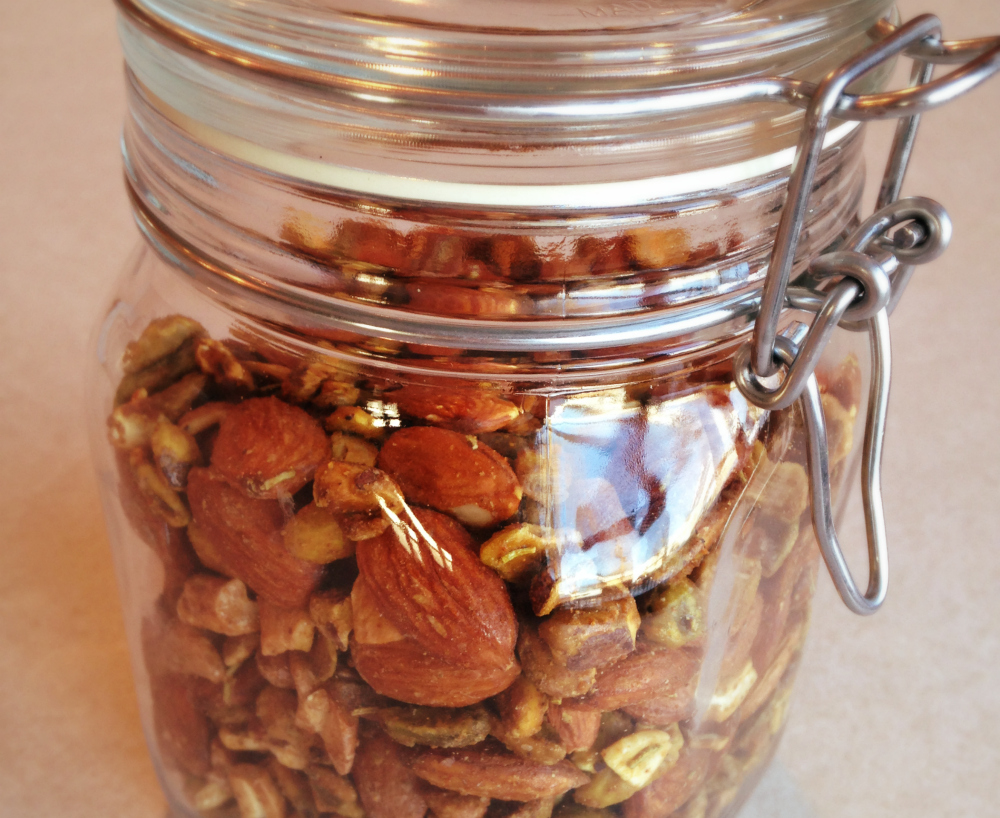 I have a new love of my life: these spicy and sweet curried nuts. I can't get enough of them. I made them first for my heart party (um, I mean wine-tasting party) and I've made five batches since. I've finally given in and started doubling the batch.
Although I can't stop eating them, I comfort myself that I'm at least getting loads of heart-healthy antioxidants with my zillions of calories. And, I learned from the keynote address at the heart health event I spoke at last month, that eating nuts – along with not smoking, being the right weight, exercising, eating right, and all those other good habits – is actually an indicator of longevity. So by eating these, I'm adding to my life. As long as I don't add too much to my waistline.
But, seriously, I challenge you to stop eating at just 1/3 cup (the serving size). I think you'll end up as addicted as I am. You are warned.
Adapted from Ellie Krieger's cookbook The Food You Crave 
1 cup whole, unsalted, raw almonds
1/3 cup unsalted raw cashews
1/3 cup unsalted raw pistachios
1/3 cup unsalted raw pumpkin seeds
1 tbsp. maple syrup
1/2 tsp. curry powder
1/4 tsp. cayenne
1/2 tsp. dried rosemary
1/4 tsp. salt
Preheat oven to 325 degrees F. Combine nuts and seeds. Add the maple syrup and spices and salt and toss to combine. Line a cooking sheet with parchment paper and bake 15 to 20 minutes until nuts are fragrant and lightly toasted.
You can adjust the quantity and types of nuts to suit your preference – the total should be 2 cups nuts. I love the cashews, so sometimes I skip the pumpkin seeds in favor of more cashews. The original recipe calls for walnuts too, and I'm sure that's equally yummy, and they are better for your heart than cashews.