I'm so excited to share several guest posts from friends, family, colleagues, and fellow heart sisters over the next few days. And even more excited that the first one is from my sister, Anna. Although my brother, sister, and I share the same family history and distressingly high lipid profiles, Anna has not had a heart attack. She does have her own health challenges, though, and we share much in common there: we're willing to take charge of our health, we are not satisfied with treating the symptoms but not the disease, we really, really want to know why this is happening to us, and we won't stop until we get an answer. And, most importantly, we're both willing to do the hard work necessary for our health.
Anna is an amazing mom, artist, business woman, sister, and friend. And like me, she has every intention of being an amazing grandma as well.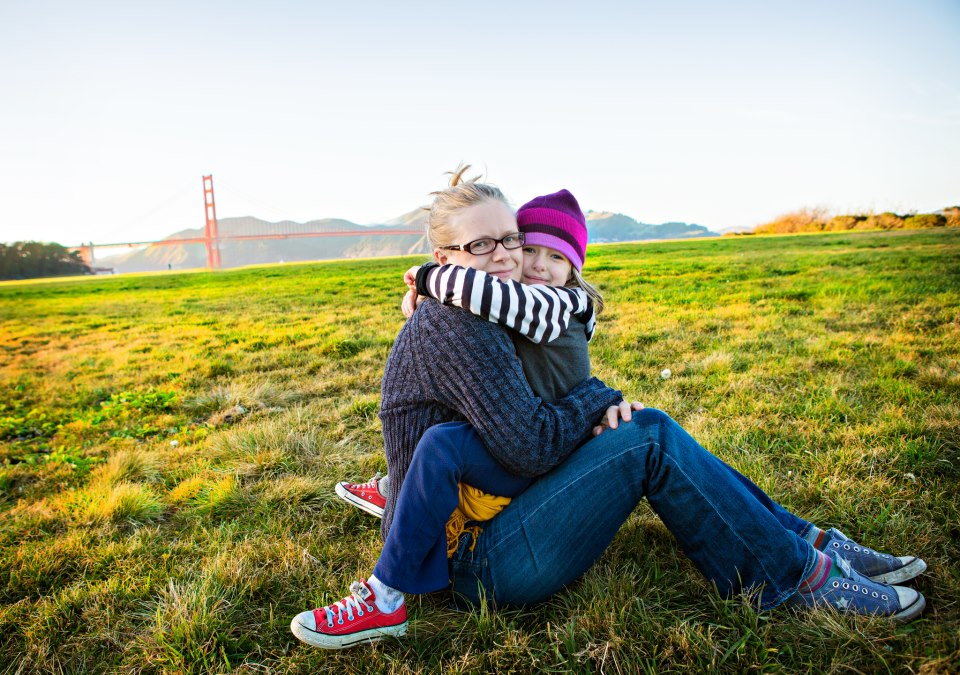 Anna and her youngest daughter, Lydia, aka Bug.
Looking to the Source
by Anna Mayer
Recently my sister shared a news article about the link between HELLP syndrome, eclampsia and heart disease. More notably, she shared how her doctors, neither those who treated her for HELLP syndrome ten years ago, nor her cardiologists today, ever mentioned such a link.
I am no medical expert, but my best guess is that they didn't know. That's not what they do — prevention, making connections, holistic medicine. Instead they play whack-a-mole with ever-more-sophisticated (and expensive) interventions. Prevention doesn't happen when you are are 25 and facing potentially heart damaging illness later, but intervention does when you are 37 and lying on an operating table. It doesn't take a genius or nine years of medical education (which may in fact block one's eyes) to see the futility and stupidity of that. Good grief!
I have my own chronic health issues, though so far, no heart disease (my cholesterol is the highest of the three of us, so go figure). I have Graves Disease, a autoimmune disorder that attacks your thyroid. I have other autoimmune issues as well.
My highly educated and well-respected endocrinologist looked at me and said "You have hyperthyroidism. We'll kill your thyroid. Done." and I said, "But where did it come from? What is the cause? How are my other issues (fatigue, achiness, pain) related?" and all he said was "I don't know. It doesn't matter. Let's take out your thyroid."
I didn't find that remotely satisfying. I mean, doesn't my thyroid do more than control my metabolism? Yes. Does the subsequent lifelong use of thyroid replacement really make up for its absence? No. Is it REALLY a good idea to put radioactive materials in my body before looking into all my options? I don't think so. So, though skeptical, I went to a naturopath who said, "These are all related. It's always related. Let's look to the source." I found this reassuring. It made sense. Of course they are related.
It turned out to be a slow, sometimes painful process, this "looking to the source," but a full year of working with a naturopath later my thyroid is still where it belongs and my body has not received any radioactive destruction. My Graves is generally under control through natural supplements and diet changes. Who knew? Even more exciting to me, I have learned the source of three years of feeling sick all the time, like I was coming down with the achy flu: a gluten allergy (also part of autoimmune).
My endocrinologist had simply shrugged his shoulders when I told him about how I felt. Said, "Huh. Well, let's take out your thyroid." In fact, he didn't even tell me that Graves Disease was an autoimmune issue. He didn't tell me that if I removed my thyroid that my body could next attack another part of me unless I address the underlying cause. That I could end up with Lupus or MS or rheumatoid arthritis. No thank you!
Despite all the breakthroughs I have made and as much as I love my naturopath, I really wish I could take her and marry her to my other doctors: my cardiologist, my endocrinologist . . . I mean, why should I have to choose one path over another? Why on earth would my doctor, who specializes in autoimmune disease, not tell me that I had one? Why doesn't my cardiologist talk to me about sources of inflammation (a serious issue with autoimmune-compromised people) and how they are likely more important than my lipid profile? Why should those who trust their doctors to do what is the very best for them be led to take drastic measures when they are unnecessary, or worse, take no measures when they are? The answers to that are many and most of them are frustrating — money, control, pride, myopic views, politics, and the hurry-up-and-fix-it mentality of Americans. (Radio-active iodine would "cure" me in 10 days, my natural treatments took six months and major lifestyle changes.)
I don't know what the future of medicine may be. I am not sure that a national system will be open to integration between natural, holistic, and conventional approaches any more than our current system is. I truly hope so. Let's move into the 21st century already! Perhaps it will be better for our children. We can hope and we can advocate. In the meantime you and I can take control of our own health and our own treatment plans. After all, this is YOUR life and this is MY life. I plan to be an awesome grandma one day; somehow I gotta get there in one piece.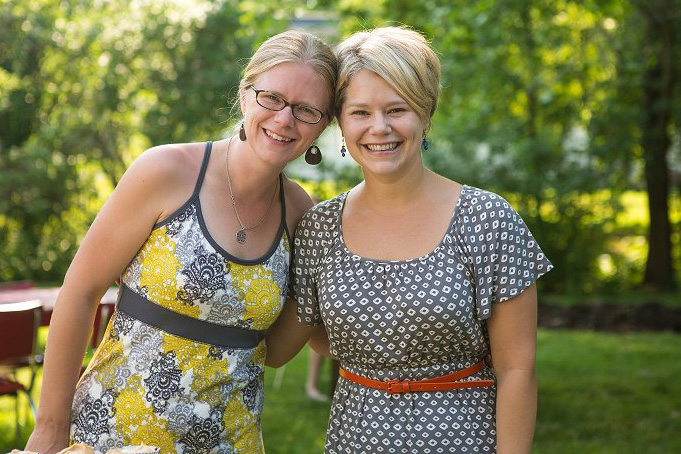 My sister and me last summer. Among the many other things we have in common:
hair color, practically all facial features, favorite color for sundresses, favorite earrings,
smiles. We are two years apart but as girls we were often asked if we were twins.
Anna is a child and family photographer and mom to four seriously awesome kids. She lives in Milwaukee with her family and blogs at www.annamayer.com.