I love reading year-end top-anything lists – the top news stories, top photos, top tweets, and, if I'm honest, the "51 times Jennifer Lawrence was awesome in 2013" on Buzzfeed. I like taking a little time to remember all that happened, good or bad, in a year.
2013 was a very big year for me — I was the Go Red for Women spokesperson for Minnesota, was filmed and photographed and profiled like crazy, made a lot of speeches, attended events, wrote a lot of blog posts, and wore a lot of red. I had another angiogram and two new diagnoses. I spent the first few months of the year on the couch, and by July I could still count the number of pain-free days of 2013 on two hands.
And then later that month a few days went by without pain, and then a week, then two, then a month. The second half of 2013 became nearly pain-less, and I got busy getting on with my life. I was the honorary chair of the first-ever Run with Heart American Heart Association team at the Twin Cities Marathon. I got a job. I finished the race. Actually, I finished 12 races.
My second heart-iversary passed, my kids started school, I started work, and the months went by in a blur until it is a few days before the end of the year and I'm looking back at it all and thinking about what it means to me to share it here.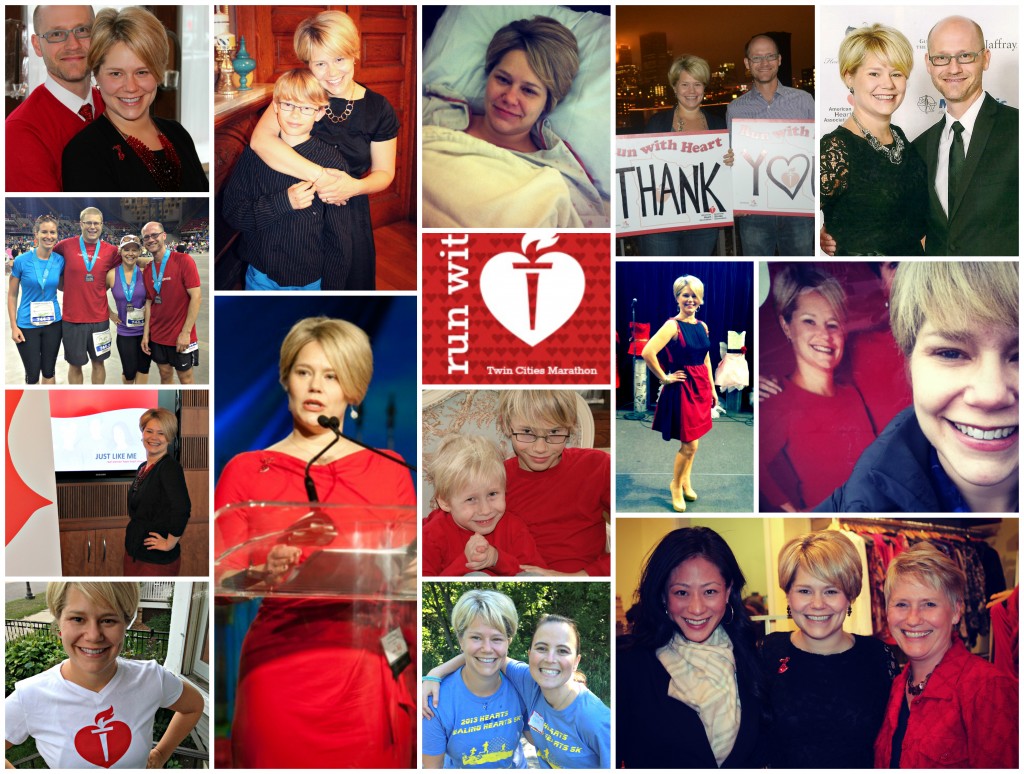 These are the 13 most-read posts of 2013 — the posts that must have meant something to readers, the posts that continue to be found, weeks or months after they were written. I hope these posts have helped someone; I know they helped me.
Appearing in order by number of views: Top 13 of 2013.
1. Ladies Who Lunch. Women on a Mission — about the Go Red for Women fundraising luncheon at which I was the speaker and survivor story.
2. A Mysterious Trailer — people like a good teaser, I guess. This was the teaser video sent out before the luncheon. It's very dramatic.
3. I'm Still Here, I'm Still Sick — the beginning of 2013 was not great. Weeks went by without a word until I was finally able to share my newest diagnosis.
4. HELLP Syndrome 2001; Heart Attack 2011. Is this Why? — I read a lot of cardiac health-related news and research, and this one jumped off my Twitter feed. I had HELLP syndrome with my oldest son 12 years ago. It never occurred to me that that was anything but my past.
5. Looking to the Source — one of my guest posts from heart month 2013, this is my sister's post about what would be the best approach to managing health challenges, and how hard it is to find it.
6. View from the Second Row — I had a lot of fun at the Red Dress MN Fashion Show in February, and I've got pictures to prove it.
7. 30 Things About My Invisible Illness — I participated in National Invisible Illness Week by filling out its list of 30 things about my illness. It was an interesting exercise.
8. How to Go Red – Ways to get ready and get involved in Go Red for Women Day and heart month.
9. Heart Attack Stun – an amazing guest post by my heart sister Jodi, who I met when she found my blog after her heart attack. She describes the stunned haze of this new life so perfectly. Make sure to click through to her blog. She's funny.
10. Heart Disease Indicators I Bet You Didn't Know — This is a short little post sharing some of the weirder correlations to potentially developing heart disease. I suspect this one ranks high because it has highly searched keywords in the title.
11. In Two Years — In which I tearfully and gratefully remember what I was able to do in the two years since my heart attack. Because I lived.
12. Run with Heart Team Profile: Mike Thorson. Anytime my brother's on this blog he drives traffic. Hmm. Mike was on the Run with Heart team too — and he did the whole marathon. Kicking heart disease in the ass.
13. That Good Stuff: Best Granola Ever — I love that this one made the cut, because really, do yourself a favor and make this granola and then eat it right away. Yum.