During the month of January, my brother Mike's family decided to try eating vegan and I asked if I could share some about their experiment and their favorite recipes. I'm really excited to report on their month from the perspective of the kids — Oliver, 10, Natalie, 8, Jenna, 7, and Lauren, 4.
Today's reporter: Oliver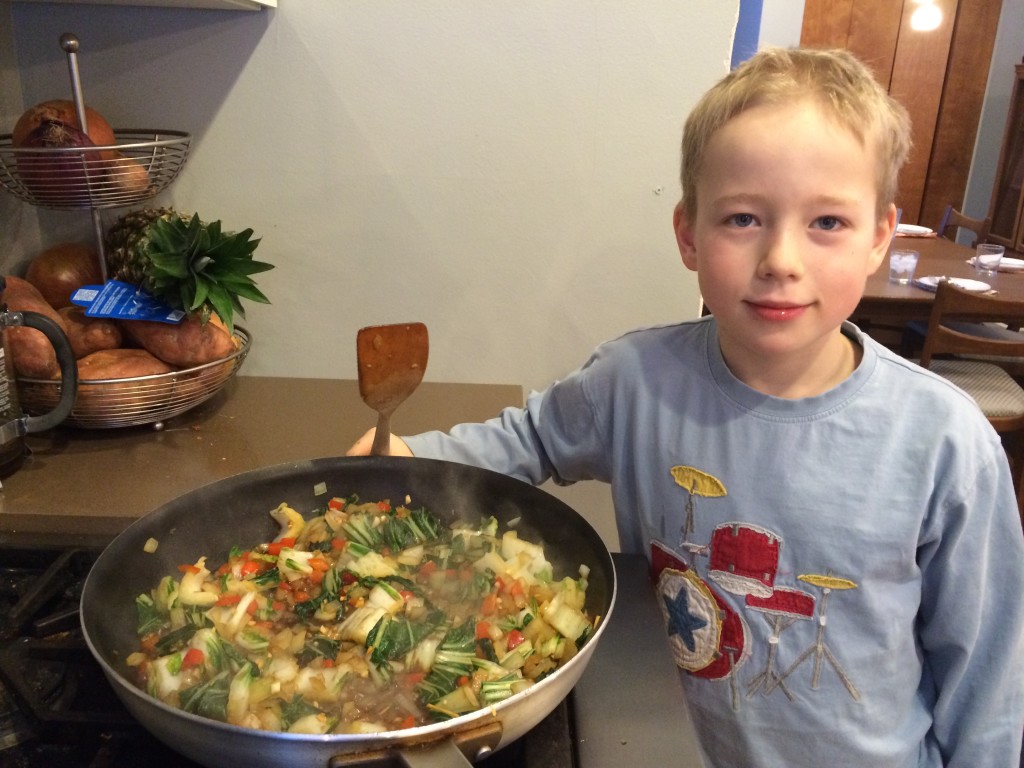 Name: Oliver Thorson
Age: 10
Grade: 4th
What was your favorite meal/recipe from Vegan Month?
Bok Choy Stir Fry
Why is this your favorite? What did you like most about it?
I love the taste. I like the Bok Choy itself. The white parts are my favorite.
What was the best thing about vegan month?
Ummmm. If we hadn't done vegan for a month I probably would not have discovered a couple meals I really enjoyed.
What was the worst thing?
No butter. The Earth Balance spread was good but not AS good as butter.
What is something new you learned about cooking or eating?
It takes less to clean up. Like less burnt grease on pans from meat to clean.
What is your favorite way to get exercise?
Swimming. Either swim club or just for fun swimming.
What advice would you give someone about how to be heart-healthy?
Talk to someone who has heart disease, like my dad.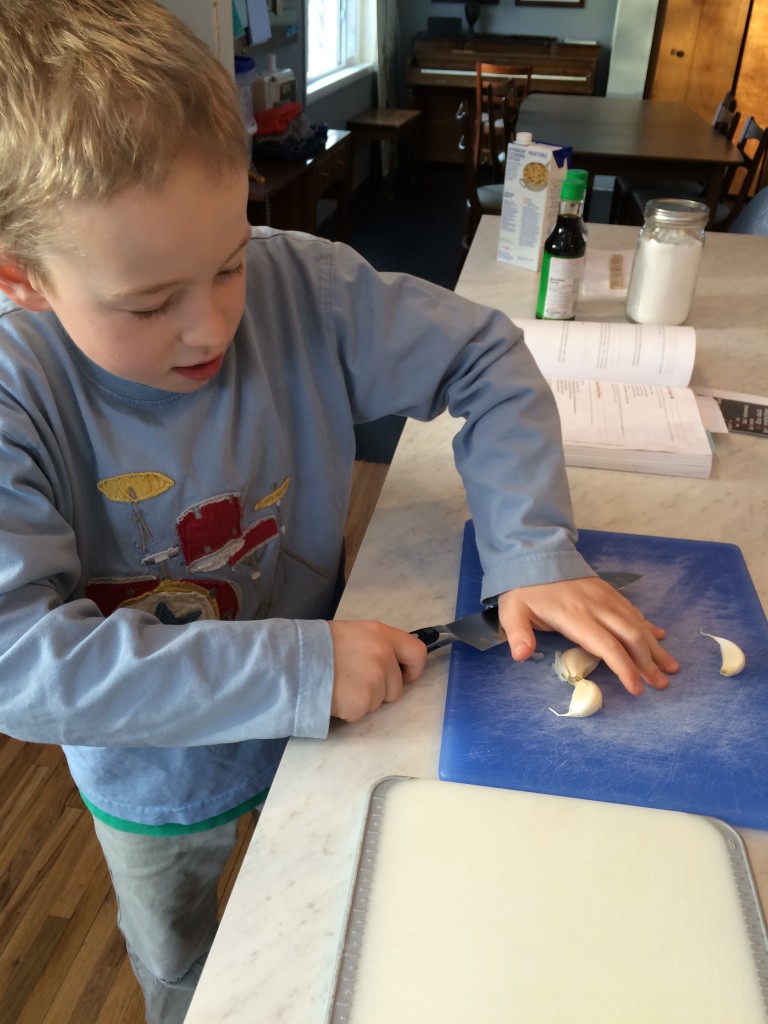 Bok Choy Stir Fry
from Forks Over Knives: The Cookbook
This recipe says it serves 2, we double it and it feeds our family of 6 with one leftover serving.
1/2 medium yellow onion, peeled and diced
1/2 medium red bell pepper, seeded and diced
1 bunch baby bok choy, trimmed and chopped (whole thing, white parts too)
3 cloves garlic, peeled and minced
1/4 cup Chinese Brown Sauce
2 tablespoon dry sherry (we skip this because we never have it around)
1/2 teaspoon crushed red pepper flakes
2 cups cooked brown rice
4 green onions (white and green parts) thinly sliced
Heat a little olive oil in a large skillet over high heat. Add onion and red pepper and cook for 4 minutes. Add water 1-2 tablespoons at a time to keep vegetables from sticking to pan. Add the baby bok choy and cook for 3 minutes. Add the garlic, Chinese Brown Sauce, sherry, crushed red pepper, and brown rice. Cook until heated through, then stir in the green onion.
Our changes:
The recipe calls for just water to sauté, which does work, but we usually start with a tiny amount of olive oil and then switch to water if needed.
Also, we do not mix in the rice. We find it is easier to portion the veggies for the kids by just serving over rice. That way we can make sure everyone gets lots of veggies.
Chinese Brown Sauce Recipe
from Forks Over Knives: The Cookbook
Double or triple this sauce and keep some on hand for last minute stir fried vegetables. (This is true. It is very tasty and great on green beans or any veggies when looking for a quick side dish.)
1/3 cup low sodium soy sauce
1/3 cup vegetable stock
1/4 cup molasses or brown rice syrup
2 tablespoons grated ginger
2 cloves garlic, peeled and minced
2 teaspoons arrowroot powder
Combine all ingredients in a medium saucepan and cook over medium heat until thickened, about 5 minutes. Store refrigerated in airtight container for up to 1 week.