So this happened too.
Three weeks after my brother's heart attack and 13 months after my own, I was back in the OR, prepped for another angioplasty, getting another stent.
Because heart disease is not a dramatic, one-time, life-altering, something-that-happened-to-me-once-isn't-that-interesting thing. It is a lifelong, chronic illness that will strike whenever it damn well pleases. It will take what it wants. It will take what you want.
It will take. And you will give.
I wasn't kidding when I said it has been a rough few weeks. Mike's heart attack put me in some kind of serious funk; it was the first clue that this was about the long-haul, my whole life, never to be safe. Never to be not-sick. Never able to protect my family, no matter how many words I write.
And then there was the pain. Only when I ran. Only for the first mile or so. Not exactly in the same place, but creepily similar.
It must be in my head. There's just no other explanation. Of course. I'm just freaked out. What distance runner doesn't kind of lose it during taper? Who hasn't had phantom pain and injury? Of course Mike's heart attack is messing with my head. Don't I have psychosomatic chest pain every time I tell my story?
Or not.
It was a recovery run two days after my 20 miler. I started out and there was that little nag. By a half mile, more. By a mile, acute. I had to stop. I walked home. And I cried all the way.
I cried because I knew, without any diagnostic test, without any radioactive isotopes or EKGs or CTs, without any wires, tubes, cameras, or balloons inserted into my heart. I was sick again. I would not be running a marathon, this weekend or ever. I would never have another baby.
I am sick, and I am going to stay that way. My life has gone from no limits to know limits.
I'm fine, for now, thanks to aggressive work by my doctor, who had to use his 3D camera inside my LAD to find the problem (75% blockage), angioplasty, and a shiny new stent. (I will admit the camera was cool, and he was pretty excited to be using it. He told me the next day he presented my case "in conference." A medical marvel, I tell you. It was also at this conference when all the cardiologists agreed I should not run distances greater than 10K again.)
I have some residual pain that is disappointing to both me and my cardiologist. He just inspected all my arteries. They are clear. It has been 10 days. It must be soreness from the angioplasty. Inflammation. He can't really come up with a good explanation.
Neither can I, but neither can I forget about it. It's with me, all the time.
It takes. And I give.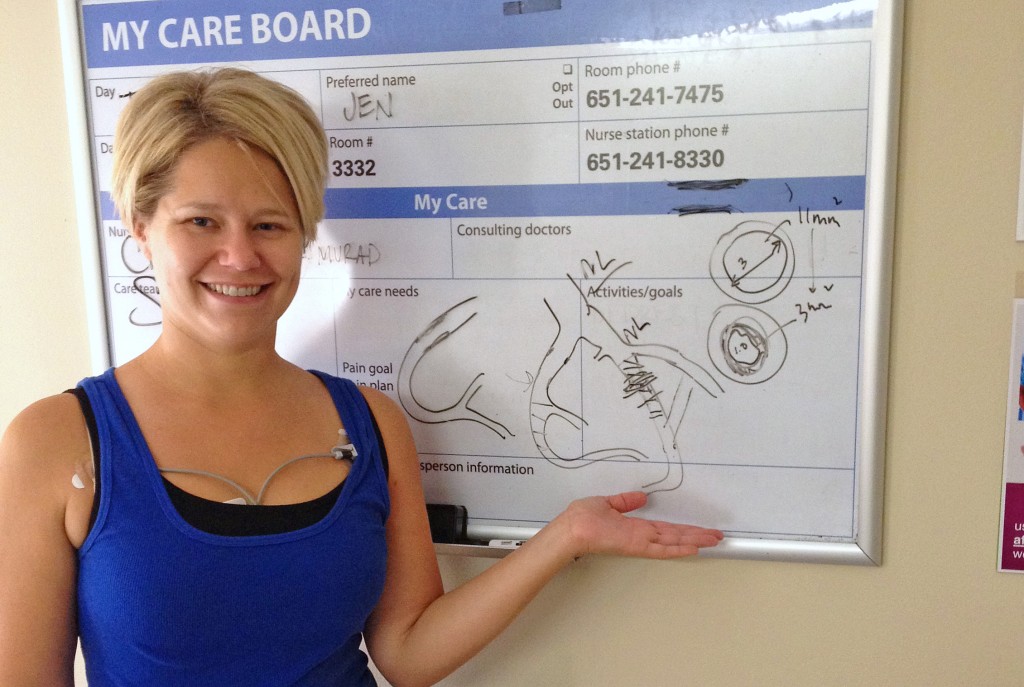 Yes, I'm smiling here. My mental health has been on a roller coaster, and I remember that from last time. The first emotion is relief — knowing what was wrong, knowing I was not crazy. Then happy to be alive, grateful. Then accepting the truth, and with that, anger and loss and pain. I know the signs, I know the drill. I'll make it. Again.