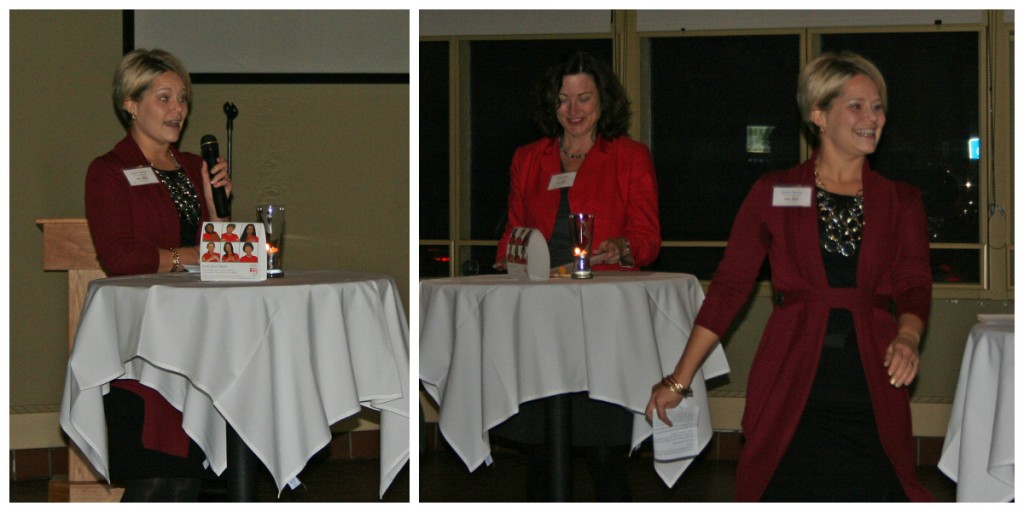 Tonight was my first official appearance as the Go Red for Women spokeswoman for 2013 — a kickoff event for Minnesota's 10th year of Go Red.
The event was fun, and my remarks went well, but I was surprised at how nervous I was. I should not have been — every face I could see when I spoke (for only two minutes this time!) was smiling and supportive and positive.  I was impressed and moved by the women who are working to raise awareness, visibility, and money for women and heart disease. I choked up a little but maybe it just made my voice sound a little lower (a girl can hope anyway). I was right where I belonged.
Here are my remarks. (More accurately, this is what I prepared and mostly delivered. Me with a microphone equals a fair amount ad libbing and a little too much walking around, Oprah-style.)
It took until the second day of cardiac rehab following my heart attack in August of 2011, for a man named Patrick to lean over and ask what I know they were all thinking:
"What are you doing here?"
See, I don't look much like a typical heart attack survivor. I was 37 then, a girl, and had been in the middle of training for my second marathon. I wore running shoes and athletic clothing to rehab. I stood out a little bit.
"You didn't have a heart attack, did you?" he said.
"Yes," I replied, "I'm practically the poster child for it can happen to anyone."
And now it appears I am the poster child, at least for this year. I'm so honored to be chosen as the 2013 Go Red for Women spokesperson, and humbled too. Because the truth is, I am a typical heart attack survivor. Women have heart attacks all the time. More women than men die from heart attacks. Young mothers and even fit and active athletes have heart attacks. Women with no symptoms or risk factors save a long family history. There are thousands – millions — of women like me. Way too many of them die. I'm humbled to be the story that is told.
That's why I went to the Casting Call at the Mall of America last February. I didn't tell anyone I was going – only my husband and that was on my way out the door. I went because I knew I'd be mad at myself if I didn't. I went because I want women and the men in their lives to know their risk and make the decisions they need to to keep themselves safe. I went because telling my story, again and again and in many different ways and in different places, helps me more than it helps anyone else. It makes what happened to me make a little bit of sense. It keeps me accountable for every decision. It makes me want to know more and learn more and do more.
If you, in this room, are one of the millions of women like me living with heart disease, I encourage you to start telling your story. The benefits are profound. Next year in February, put on your favorite red dress or outfit (how many do you have? It's my new favorite color) and try the casting call. You don't have to tell anyone – unless, of course, you become the next poster child.

I was really excited to meet Maria (left), one of two 2012 Go Red for Women spokespeople. This is me with Alicia Gordon, the Go Red for Women Director for the American Heart Association-Midwest.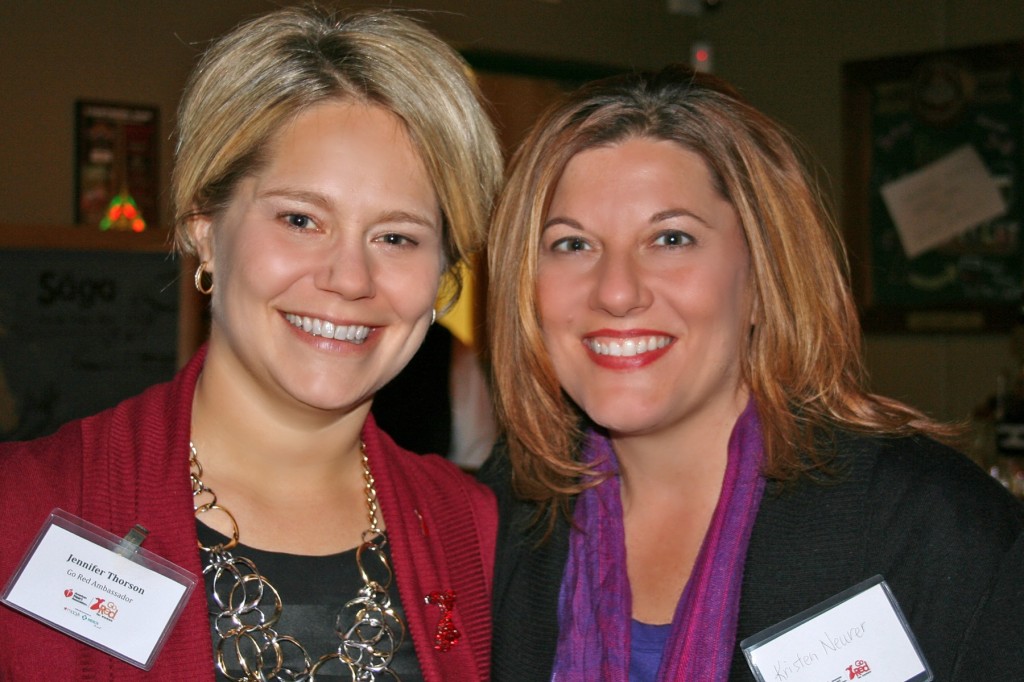 With my friend Kristen. Thank you for coming with me!