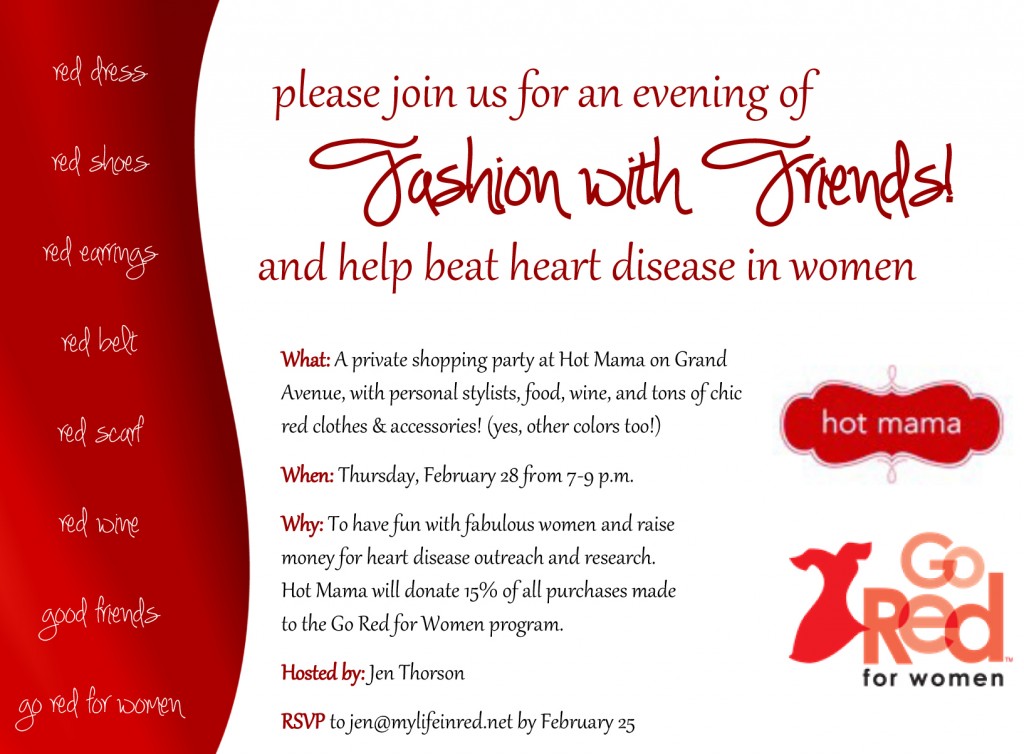 I think it is clear by now that I'm loving the fashion focus of the Go Red for Women and Heart Truth awareness campaigns. I was in one fashion show and wrote about another. I pinned an entire board of red fashion inspiration on Pinterest. I've worn red every single day this month and have procured an embarrassing number of red accessories and outfits.
Heart disease is a women's disease, and we need to meet women where they are: at work, at yoga, at the coffee shop, at church, at book club, on the courts, and yes, at the mall. It's not about shopping — it's about getting the information in front of women enough times that it sinks in: heart disease is their number one risk.
So I'm very excited to be hosting a Go Red for Women party at Hot Mama on Grand Avenue on Thursday, February 28. Everyone is invited for food, wine, friends, and fashion (in all colors!). Personal stylists will be on hand to help you pick the perfect clothes, shoes, or accessories, and Hot Mama will donate 15% of sales that night to Go Red for Women. The event will run from 7-9 p.m.
There's no pressure to buy anything! I just want you to come and bring a friend and spread the word to empower women to protect their health. Plus laughter with a glass of red wine is good for your heart!
Register now! It's fast and easy.