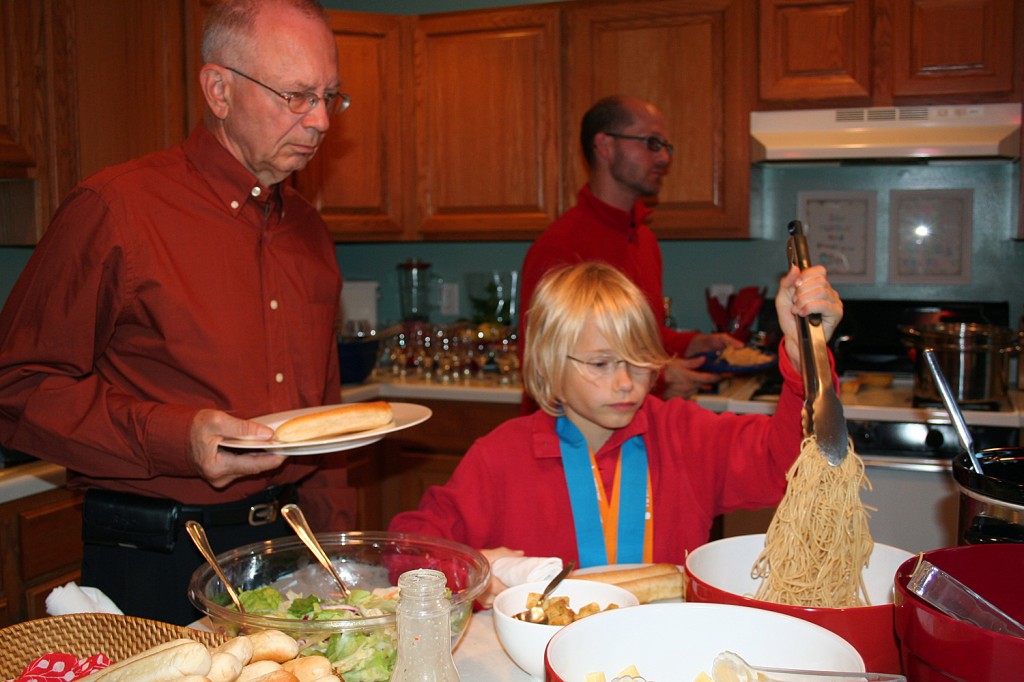 I don't think I'll ever get tired of heart-related puns. If you continue to read this blog, consider yourself warned.
Last weekend my family and I had a ton of fun while running. To fuel those workouts, we had a pasta party at our house Saturday night. Pasta is a safe bet: crowd pleasing, healthy, easy. But crowd-appealing sauces that are also low in fat and saturated fat? A little bit harder. Foodie-worthy too? Bring it on.
I scoured my cookbooks and websites and came up with several options, four of which I tested on my husband and his parents. Three made the cut: Turkey Meatballs with Spicy Marinara, Mushroom and Red Wine Sauce, and a light and healthy Spinach Pesto. There were many compliments Saturday night (my high school senior cousin liked the mushroom sauce best – impressive!) and I waited until people commented before revealing how good it was for them too.
Before you doubt that turkey meatballs are good (because I did, owing to a turkey meatloaf disaster a couple years ago), trust me that these are tender, juicy, tasty, and heart-y. (Hee hee.) One of my uncles was three-quarters done with his plate when someone told him they were turkey; he didn't believe them.
found the recipe in Ellie Krieger's book, The Food You Crave, which I highly recommend. You can also find her recipes on Food Network. I barely modified the recipe, but I couldn't help making a couple changes. It takes some time, so save it for a weekend or make a double batch and freeze some meatballs and sauce (but freeze them separately, after the baking step but before simmering in the sauce).
RECIPE: TURKEY MEATBALLS WITH SPICY MARINARA
Pesto purists might turn up their noses at a pesto with so little cheese and oil, but I liked it alot. Spinach provides nutrients and makes up for that grassy flavor that a lot of good olive oil would impart. The small amount of cheese means it doesn't get sticky when heated and actually holds and reheats – something you just can't do with regular pesto. I served it in a crock pot on warm and it was ladle-able (is that a word?) on top of the noodle of choice. Again, not your typical pesto behavior.
This pesto has a light flavor and sharp garlic bite (add as much or as little fresh garlic as you want). It balanced the other two sauces perfectly. You could also add cooked chicken or shrimp to make it a complete dinner, or top with some diced fresh tomatoes. I like red pepper flakes on it too.
This recipe came from the American Heart Association Cookbook. I had been thinking of going all Julie & Julia on that book and cooking everything in it, but the first thing I tried bombed so I nixed that idea. But, this recipe has redeemed the book and I will try more recipes.
Last but not least, a delicious sauce for mushroom lovers. (If you hate them, stop reading now and make pesto instead.) I found this one in Joy of Cooking, and modified just a bit, as in I left out the pancetta.
This one is easy, but it takes patience. You just slice some porcinis, baby portobellos, and button mushrooms and cook them a long time with lemon, sage, garlic, and red wine until they take on a dark, rich glaze. Sauce up with a little stock, toss with some papparadelle, grate the best parmigiano reggiano you can get over the top, and marvel at how good fungi can taste. Earthy, meaty, rich, and only 1 gram of saturated fat.
RECIPE: MUSHROOM AND RED WINE SAUCE
If you try these please let me know what you think, or share your favorite sauce recipe. Happy, healthy carb-loading!